The Round-Up
ERWFL – Sun 21st August
A new season of East Region Women's Football League (ERWFL) began this Sunday with a new look to the league layout. 12 teams contesting the ERWFL Premier Division this season all hoping to follow Stevenage Ladies and achieve promotion to the FAWPL. However, below are gone the 2 Division One's, East and West last season to be replaced with a single Division One which was to also have 12 teams competing in it this season with a few new sides promoted from the county leagues below. Very sadly it is down to 11, with Hullbridge Sports Ladies from Essex pulling out, folding after 2 very successful seasons having won 2 successive promotions wish everyone at the club the very best going into the future.
ERWFL Premier Division
   Was a torrid season for Bedford Ladies last time out finishing bottom of the FAWPL South East Division One relegated after a 2 season stay. Hoping for better fortunes as they start the new season in the ERWFL Premier Division, Suzie Darby takes over the captains armband with last seasons captain, Rebecca Vass joining Milton Keynes Dons Ladies. After a season at local rivals Luton Town Ladies, Natasha Fensome has rejoined the club as they began their season at home against, Histon Ladies who were formerly, Great Shelford Ladies. Bedford hit Histon for 7 as they took the 3 points to see them top of the league after the opening day. Fensome the 1st player on Women's Football East this season to have a hat-trick recorded against her name scoring 3 with captain Darby along with another new signing Hannah Bodily scoring a goal a piece, substitute Chelcie Alleyne bagging a brace in a 7-3 victory. Sophie Hopkin scored for Histon along with Jordanne Sillitoe who started on the bench coming on to net 2 goals.
Also recording an opening day win were Norfolk side, Acle United Ladies travelling to AFC Dunstable Ladies on the opening day. The home side had a tremendous run of form towards the back end of last season and had the early lead against Acle who aren't always the best starters to a match. Acle fought their way back into the game and on 20 minutes drew level, Grace Birchall scoring on her debut for the club, got even better 5 minute later as she scored again to give Acle the lead a missed penalty from Dunstable saw Acle hold a 2-1 advantage at the break. 10 minutes into the 2nd half Megan Cletheroe extended Acle's lead. Dunstable were to pull a goal back before Acle went on to win 5-2, Jody Wells netting on 70 minutes, Alice Ladbrook on 80 to seal the win.
Billericay Town Ladies have been perennial runners-up in the ERWFL Premier Division over the last few seasons and will once again be amongst the favourites to chase down the title having strengthened their squad over the close season. Didn't have the start to the season they were looking for as they lost at home to Haringey Borough Women on Sunday. The visitors with a young squad had some up and down results last season, but pulled off a surprise or two along the way. Beat Billericay 4-1 with goals from Jessica Appeagyei and Anele Komani, aswell as a brace from Julia Carruthers to sit 3rd in the table after the opening round of results. Lucy Wyatt on target for Billericay.
AFC Sudbury Ladies finished in 3rd place last season their 1st in the ERWFL Premier Division and will be hoping to be amongst the title chasers this season too. Started with a home match on Sunday taking on newly promoted Royston Town Ladies. A single goal was enough to secure the 3 points and it was scored by Sudbury's, Sasha Diston. In the other opening day fixture in the Premier Division it was a local derby between Great Wakering Rovers Ladies and Brentwood Town Ladies. Both sides are still on the look out for additional players to bolster their squads for the new season. Visitors, Brentwood held the advantage at half-time leading 1-0 with Carla Rose the clubs assistant manager scoring the goal. Great Wakering battled hard to keep in the match pulling the scores level to earn a point in a 1-1 draw. Colchester Town Ladies and newly promoted Writtle Ladies sat the weekend out.
ERWFL Division One
With the loss of Hullbridge Sports Ladies, 11 sides will compete in ERWFL Division One this season. A few sides from last season have folded, West Billericay Ladies gone before the season finish have been joined by Sawbridgeworth Town WFC, Bury Town Ladies and Long Melford Ladies, plenty of talented players amongst those sides will see most pop up with a new club this season. This league is the setting stone from the county league set-up and the new faces include the Champions of Norfolk, Cambridgeshire and Beds & Herts, Wymondham Town Ladies, Cambridge City Ladies and Hertford Town Ladies respectfully, all of whom have also started up a reserve/development side this season too.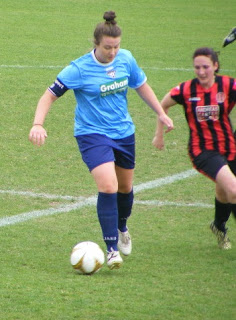 6 sides in action on the opening weekend and Silver End United Ladies surged to the top of the table the Essex side recorded a 7-1 win at home against Hertfordshire side, Hoddesdon Town Ladies. Rebecca Hollocks, (pictured left) Silver End United's captain starts her season with a hat-trick. Lynsey Bowmen adding a brace with Rebekah Henderson and Jodie Osbourne scoring a goal a piece. Megan Davies on target with a late consolation goal for Hoddesdon Town Ladies who have seen some upheaval over the close season with manager Reece Buck joining the coaching staff at Stevenage Ladies taking a few of Hoddesdon's senior players with him. New manager Andy O'Neill taking charge of a new look side for the season.
Hertford Town Ladies have enjoyed successive league titles in the Beds & Herts Women Football League and now begin life in the Regional set-up planning to continue their recent success. Started with a home game against Stevenage Ladies Reserves and got life at a higher level off to a great start winning the game 4-2, Lisa Kline on target scoring an opening day hat-trick plus a goal from Laveena Betts. Daniela Martucci joining Stevenage from Hoddesdon scoring both of their goals. 
The 3rd game on the opening day in Division One also saw a win for the home side with Ipswich Wanderers Ladies, hosting Norfolk Champions, Wymondham Town Ladies. Michelle Taylor-Allum bagging a brace to see Ipswich Wanderers lead 2-0 at half-time. Wymondham got it back to 2-1 in the 2nd half, Gemma Sanders netting the goal on 68 minutes, not enough as Ipswich Wanderers won their 1st 3 points of the season. Cambridge City, Colney Heath Ladies, Hutton Ladies and Offley & Stopsley Women all join the action this coming Sunday. Little Thurrock Dynamos Ladies not getting their season going until Sept 4th.
That concludes the 1st ERWFL Round-Up of the season still very early doors and both the Premier Division and Division One will take a while to settle see who will emerge as the contenders for the title race, could well be a surprise name or two amongst them, and all of it will be covered on Women's Football East.