The Round-Up
Sunday 23rd September
FA Women's Cup
This Sunday saw 60 ties drawn out of the hat for 2nd Round Qualifying of the FA Women's Cup with the sides from FAWNL Division One entering the competition. 15 of those ties featuring sides competing in the East. The wet start to the weekend following through to Sunday morning putting pay to a few fixtures, Cambridge United WFC v Harlow Town Ladies, QPR Girls FC v Royston Town Ladies & Denham United Ladies v Crawley Wasps Ladies amongst those that will have to try again this coming Sunday.
   The weather was set to clear across the region come kick-off time and although it was a waiting game elsewhere pitches fared fairly well at the start of autumn. It was to one of this weekend's FA Women's Cup ties Women's Football East headed on Sunday. A trip into Cambridge to watch ERWFL Premier Division leaders take on FAWNL South East Division One side, Leyton Orient WFC. Ended up witnessing a 9 goal thriller. Not that you would have expected that outcome as the higher placed league side made the far better start to the game. Leyton Orient. Pressing the ball getting players into advanced positions Sophie around the box Lisa Holmback's strike blocked the rebound coming to Tara O'Halloran her strike from the edge of the area going in to give the visitors the lead in the 7th minute. Sophie Le Marchand a constant threat on the left or coming in field doubling Leyton Orient's lead. Cambridge City struggling to get anything going in attack didn't have a shot on target until the 43rd minute that though bringing them a vital lifeline to take into the 2nd half, Laura Mills muscling her way through the defence into the box to send the ball home to make it 2-1.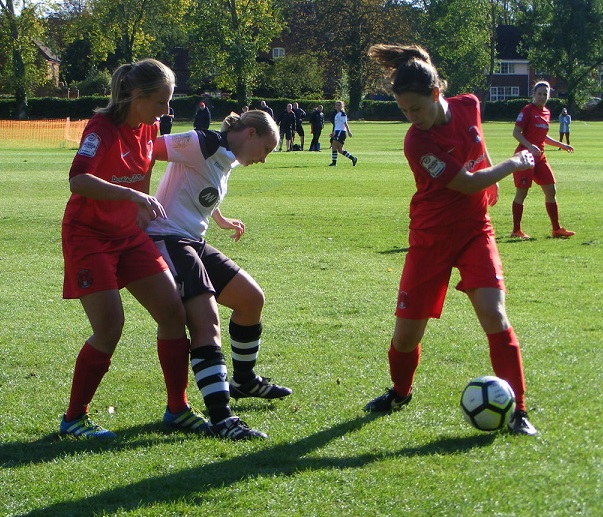 An eventful 2nd half to follow, Cambridge City getting it back to 2-2 early on Mills setting up Sarah Mosley scoring with a great strike outside the box. Leyton Orient came back to retake the lead from a corner O'Halloran unmarked at the near post heading in from close range. Cambridge City hitting back Charlotte Gillies getting hold of the ball on the right delivering a great cross into the Leyton Orient six yard box new signing Shannon Shaw getting onto the cross to turn it in. Once more Leyton Orient retook the lead Le Marchand beating the onrushing goalkeeper to make it 4-3. Mills with a powerful strike from outside the box bringing it back to 4-4. Close to the end Cambridge City went on to score the winning goal full back Lauren Tomlinson finding space to run into on the left running 3/4 the length of the pitch before squaring a cross along the face of goal Bella Simmons meeting it at the far post to make it 5-4 to the hosts and send them through to the next round knocking out higher league opposition.
   It was an all ERWFL Premier Division clash in 2nd Round Qualifying between AFC Sudbury Ladies and Acle United Women on Sunday. Visitors Acle proving to be too strong for their hosts on the day, goals from Rhianne Brister, Grace Birchall and captain Megan Todd seeing the Norfolk side leading 3-0 at half-time. More goals coming 2nd half with Lauren Bullard netting a brace to make it 5-0 with Todd adding two more herself to complete her hat-trick and a comfortable 7-0 for Acle.
  It was seventh heaven too for Luton Town Ladies as they finally got a victory under their belts on Sunday hosting ERWFL Premier Division side and local rivals AFC Dunstable Ladies. The FAWNL South East Division One side taking the lead through Aurora Ryan scoring her 1st goal for the side. Jess McKay on target to double Luton's advantage. A strike from distance from Zara Carroll making it 3-0. Nicola Henman heading home from a corner put the hosts 4-0 in front, A brace by Erica Byron along with another goal for McKay making it 7-0. Progressing in the FA Women's Cup, Luton will be hoping this Sunday's win can kick start their league campaign as they look to climb off the bottom of the table.
   Norwich City Ladies were on the road in the FA Women's Cup a wet trip up the A17 to face EMWFL Division One North side Boston United Ladies. The game taking place at Boston United FC the FAWNL South East Division One side running out resounding winner by 11 goals to 3 to progress. Kyla Love netting a 6 minute 1st half hat-trick with further goals coming from Chelsea Garrett, Jodie Drake and Reeanna Cook in the 1st period. Garrett going on to score twice more early in the 2nd half to complete a hat-trick herself. Aimee Durrant and Kathryn Stanley both claiming a goal with Love wrapping up the scoring with 5 minutes left to play.
   Leigh Ramblers Ladies entering the FA Women's Cup for the first time had already caused an upset by beating higher league opponent Bowers & Pitsea Ladies in the previous round now the newly promoted Essex Women's Premier Division side were taking on another ERWFL Division One side, Histon Ladies. Travelling to Cambridge, Leigh Ramblers were to score first take the lead. Histon coming back to level with 10 minutes left to play in the 1st half Katie Seagrave scoring the equaliser. 1-1 at the break an early goal 2nd half putting Histon into the lead Alison Wright on hand to score. Katie Webb stealing on on the keeper to win the ball and score to make it 3-1 to the hosts in the 56th minute. Leigh Ramblers setting up a tense finish to the game adding a 2nd goal with 6 minutes of normal time left. Histon holding on with 7 minutes of added time to play to go through with a 3-2 win.
    A trip to Norfolk for another Essex Women's Premier Division side with title hopefuls Corringham Cosmos travelling to play ERWFL Premier Division side, Wymondham Town Ladies who rather like the FA Women's Cup and they were by far the dominant side in Sunday's 2nd Round Qualifying tie. Striker Hannah Waters netting a 7 minute hat-trick to see Wymondham leading 3-0 after 23 minutes. Livvy Gunn scoring a 4 minute brace around the half hour a goal Laura Nicholls sandwiched in between. Another for Waters along with a 2nd for Nicholls seeing Wymondham dominant leading 8-0 at half-time. Nicholls completing her hat-trick early in the 2nd half. Chelsea Clarke brought up double figures on 55th minutes. Gunn going on to complete her hat-trick. Nicholls scoring her 4th of the match, Corringham Cosmos getting a goal with a long range strike before Carolyn Sarafian got her name on the scoresheet. into the final 15 minutes Nadine Basson back from injury scoring a brace, Nicholls with a 5th to her name and vice-captain Leah Newcombe scoring from a free-kick. 17-1 the final score.
   Wymondham's opponents in the next round of the FA Women's Cup are another fee scoring side this season, Billericay Town Ladies newly promoted the the FAWNL South East Division One were at home in 2nd Round Qualifying taking on ERWFL Premier Division side Colney Heath Ladies. Captain Lindsey Morgan getting Billericay off to a flying start, putting them 1-0 up inside 5 minutes. Megan Jiggins scoring to double the lead 10 minutes later. Zoe Rushen scoring twice in the 2nd half her brace coming either side of a goal from Nicole Farmer on 62 minutes. Amy Nash also getting her 1st goal for Billericay. Jay Blackie scoring a late brace with Danica Dougal making it 9-1 2 minutes from time. Adrienne Milton with the consolation goal for Colney Heath.
   EMWFL Premier Division side Peterborough United Ladies were on the road in 2nd Round Qualifying away to FAWNL South West Division One side Chesham United Ladies, were soundly beaten a 5-0 win seeing Chesham United into the next round.
   AFC Wimbledon Ladies were hosting AFC Phoenix Ladies in the FA Women's Cup this Sunday the FAWNL South East Division One side needing extra-time to see off their lower league opponents to advance. The sides entering the extra period of play with the 90 minutes ending goalless. So too the 1st period of extra-time the winning goal coming 3 minutes into the 2nd half of extra-time Katie Stanley getting the ball into the back of the net to send Wimbledon into the next round.
   Exiting the FA Women's Cup at the first hurdle though are FAWNL South East Division One side Ipswich Town Women beaten on penalties by lower league opponents, New London Lionesses. Paige Wakefield scoring early on for Ipswich in the first half conceded a penalty in the 13th minute New London Lionesses equalising from the spot. A free-kick arrowed in from Cassie Craddock late in the 1st half seeing Ipswich restore their lead. New London Lionesses coming back again to make it 2-2 on 70 minutes. Onto extra-time neither side able to break the deadlock it headed to penalties never a nice way to lose great if you get the win and New London Lionesses were celebrating after taking it 4-2.
    An all FAWNL South East Division One clash in 2nd Round Qualifying saw two sides starting the season well going head to head Enfield Town Ladies hosting Actonians Ladies on Sunday. Sara Degooye on target in the 5th minute for Enfield to see the hosts lead. Alessandra Barreca on target for Actonians 2nd half but it wasn't enough as Enfield clinched a 2-1 win with Molly Peters getting the goal in the 85th minute.
  One more game to bring you from the FA Women's Cup this Sunday with ERWFL Premier Division side Peterborough Northern Star Ladies hosting FAWNL Division One side Stevenage Ladies in 2nd Round Qualifying. A brace from Amy Makewell along with goals for Shona Chitate, Erin Pope and Ellie Searle seeing Stevenage progress with a comfortable 5-1 win. Emma pollard scoring for Northern Star.
  The draw for 3rd Round Qualifying of the FA Women's Cup was made this Monday a place in the 1st Round Proper up for grabs, ties to be played Sun 7th October with the winners receiving £600. The ties featuring sides playing in the Women's Football East catchment listed below:-
Nettleham Ladies v Histon Ladies
Norwich City Ladies v Enfield Town Ladies
Acle United Ladies v Cambridge City Ladies
Cambridge United WFC or Harlow Town Ladies v Stevenage Ladies
Wymondham Town Ladies v Billericay Town Ladies
Chesham United Ladies v Denham United Ladies or Crawley Wasps Ladies
AFC Wimbledon Ladies v Godalming Town Ladies
Whyteleafe Ladies v QPR Girls FC or Royston Town Ladies