The Round-Up
Essex – Sunday 23rd April
Essex Women's Premier Division
Harlow Town Ladies, Essex Women's Premier Division Champions were playing their penultimate league match of the season, their last at home against bottom side Walden Ladies looking to end the season with a 100% winning record for the second successive season turned on the goals racking up a double figure scoreline, going well into the late teens to make it 21 wins from 21 with a 17-0 result. Are away to 2nd placed Lawford in their final league game this Sunday before moving on from the county leagues taking the step up into ERWFL Division One.
Remains neck and neck between 2nd and 3rd with both Lawford Ladies and Chelmsford City Ladies picking up the 3 points this Sunday, Lawford Ladies were away to Wickford Town Ladies got the win courtesy of a 3-1 scoreline, have 5 games left to play, Chelmsford City their only challenges for the runners-up spot.
  Mia Brisley scored the only goal of the game for Chelmsford City Ladies as they won at home to Beacon Hill Rovers Ladies on Sunday played a game more than Lawford, however the two sides are due to meet before the end of the season.
4th placed Runwell Sports Ladies were involved in a 9 goal thriller away to 2nd bottom Alresford Colne Rangers this Sunday, a brace for Nikhol Chapman along with a goal each for Sophie Olley, Samantha Delves and Danielle Stace seeing them take the 3 points in a close 5-4 win.
Collier Row Tigers open up a 4 point gap in 5th place from 6th placed Eastern Avenue as the 2 sides met in the league on Sunday, a 4-0 away win for Collier Row Tigers a blow for Eastern Avenue, however they have 3 games in hand on their opponents.
Hutton Ladies Reserves gained another 3 vital points at home on Sunday as they look to pull away from the bottom 2 winning 3-1 against Chigwell Ladies, with both Alresford Colne Rangers and Walden Ladies losing.
Essex Women's Division One 
Two games played in Essex Women's Division One this Sunday, Frontiers Ladies having already secured a top two finish in their 1st season went 3 points clear at the top winning away from home at Chelmsford City Ladies Reserves, took the lead in the 1st 5 minutes after Emma best was brought down for a penalty, Shannon Hardinges stepping up to score. Chelmsford City pulled it back level in the 22nd minute with Emily Kendle finding the back of the net, for only the 2nd goal Frontiers have conceded in the league all season.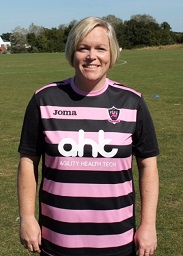 Frontiers went on to score twice more in the 1st half to lead 3-1 Sharon Ferguson (pictured) in the right place to score both. Pushing for more goals 2nd half having one disallowed, Frontiers found the target 3 more times in the final 10 minutes. Kelly Holsworth scoring from all of 40 yards from a free-kick. Holsworth taking a corner played the ball in towards Ferguson to head the ball in to complete her hat-trick. Anna Freeman making it 6-1 in the closing stages scoring her 1st goal for the club. 4 games left to play same as 2nd placed Corringham Cosmos who saw their game against Collier Row Athletic postponed on Sunday, meet each other twice in those remaining games.
In the other game played in Division On on Sunday, Hatfield Peveral Ladies moved back above Harlow Town Ladies Reserves into 4th spot with a 2-1 win at home to Waltham Forest Ladies.