Archive – 1st published on the Supporting Women's Football Blog 2nd December 2013
UEFA Women's U17 Championship – England progress
Last Tuesday saw the start of UEFA's Women's U17 Championships which saw England in competition with 7 other qualifying nations. Having enjoyed watching a few of the Women's U19 Euro matches in the summer I really wanted to go see what the next age group coming through had to offer so booked the tickets to go and see all of England's group matches.
The 4 venues chosen to host these Championship matches were, Chesterfield FC, Burton Albion, Hinckley & AFC Telford. The 8 participating nations were drawn into 2 groups of 4 with the top 2 in each progressing through to the semi-final stage. England were drawn in Group A along side Italy, Austria & Portugal. Group B was made up of Germany, France, Spain & Scotland.
England's 1st game was against Italy on 26th Nov at AFC Telford taking the day off work for a 12:30 kick off AFC Telford is a nice modern stadium with one large stand running the length of the pitch, terracing either end packed with school children and the England band in town it was a great atmosphere the kids loving it making plenty of noise as the two teams put on a very good display of flowing high tempo football that was end to end (very un-Italian like) without really creating any clear cut chances on goal in fact it was the defenders who stood out the most England Captain Leah Williamson and her defensive partner Gabriel George played very well the game was heading for a 0-0 probably a fair result too however football's not always fair and Italy were making some good runs into the box late on 1 shot took a deflection and Italy claimed the win with just minutes to play. Austria and Portugal played out a 0-0 which was as far as England were concerned a great result.
In Group B Germany won despite a strong Scotland fightback 4-2 with Spain beating France 2-0.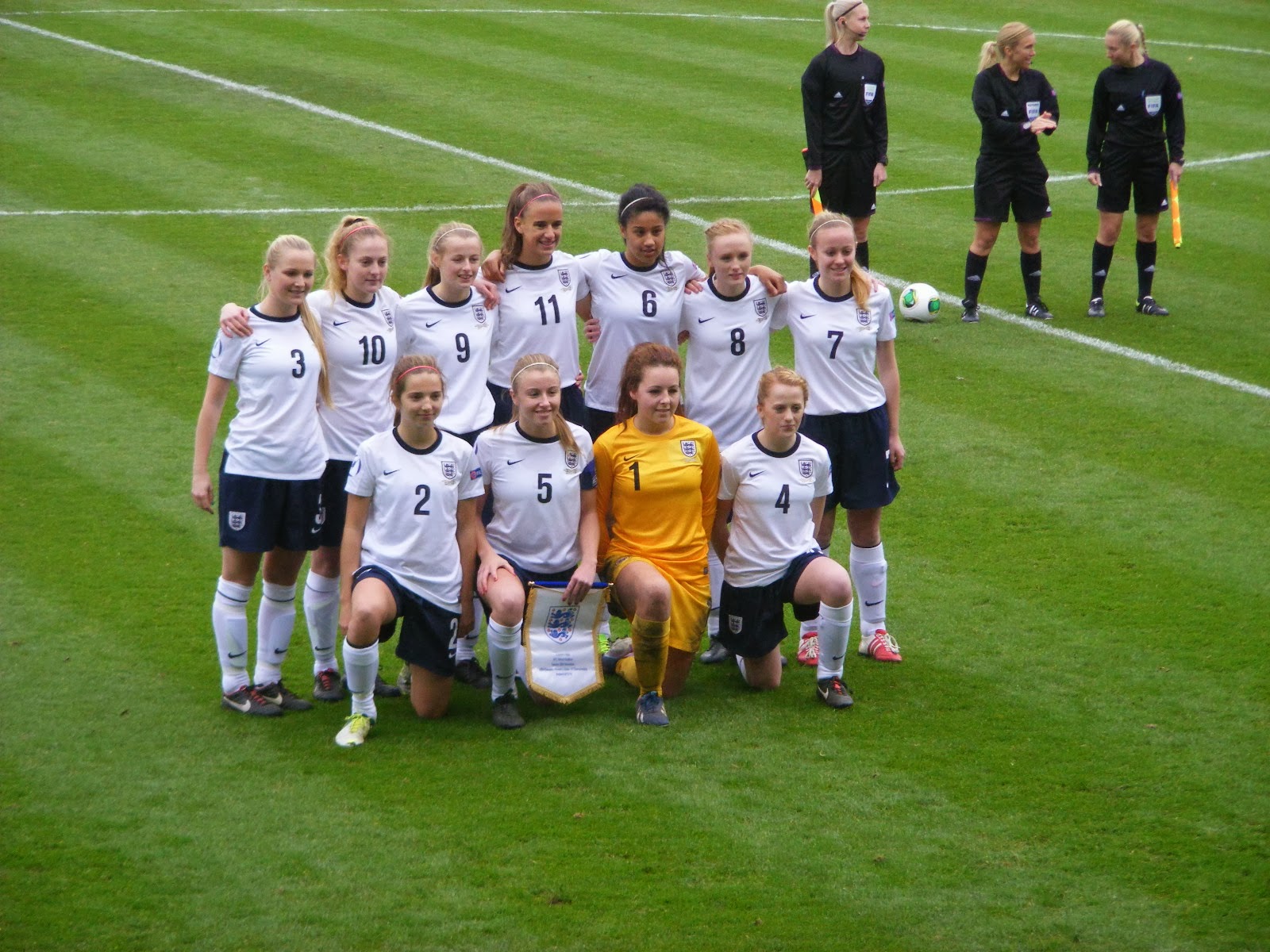 Onto Friday 29th Nov and group game no 2 this time a 7:00 kick off at Chesterfield's Proact Stadium a new built stadium and very impressive. England's opponents Austria, after an opening day defeat England really needed a win. A Friday night with no school parties to attend the crowd was nevertheless in excess of 2000 turned out along with the band to watch the same England side that had started against Italy struggle early on to cope with Austria's flank players driving into the box and it was from one of these Austria scored the opening goal. England needed a response Ashleigh Plumptre coming in from the left was causing Austria problems and it was she who scored the equaliser to make it 1-1 at the break.
The 2nd half was totally different England came out the stronger were the ones asking Austria questions and it was Lucy Porter whom had just come on who tucked the ball home from an inch perfect cross from midfielder Keira Walsh from the edge of the box and England won 2-1. Italy clinched their place in the semi's beating Portugal 2-0. In Group B Scotland kept their hopes of qualifying alive with a 0-0 draw with Spain whilst Germany beat France 4-0 to reach the semi's themselves.
Now onto today Monday 2nd December and the final round of group matches. Up against Portugal a 12:30 kick off at Burton Albion the most straight forwards of my 3 journeys so far so you would think it was a total nightmare hold ups everywhere and the less said about road 'improvements' in Nottingham the better still got there just in time loads of kids again and the band they really know how to get a crowd going, so long as you're not sitting next to the drummer. A draw would see England progress to the semi's however a Portugal win would see them qualify at our expense so what England really needed was an early goal and on 11 mins midfielder Mollie Rouse rifled a shot into the back of the net England were dominant with Atlanta Primus (daughter of ex premier league footballer Linvoy Primus) making her 1st start in the tournament on the left England were strong a 2nd goal was scored through no 7 Evie Clarke then a 3rd minutes later this time headed in by Atlanta Primus. On the stroke of half time Portugal pulled a goal back to give them hope through Carolina Ferreira. The 2nd half however was again dominated by England, Portugal could not cope with their strength and movement and the 4th goal was scored by striker Chloe Kelly. The Portuguese keeper Catarina Barradas brought down an England player in the box and was sent off on 50 mins her replacement unable to save the penalty taken by England's right back Alice Hassall. The final goal England's 6th was headed in from a corner by Lucy Porter and England reached the semi finals in emphatic fashion with what will be huge confidence and belief. In the other match Austria got a 1-0 over Italy and finish 3rd in the group. In Group B Scotland needed a win coupled with a Spanish defeat to go through sadly they were beaten 1-0 by France, whilst Spain stole top spot in the group from Germany by beating them 4-0.
Thus the semi-final line up will be Italy v Germany & Spain v England two fascinating matches the final will be a hard one to call I'm certainly not going to do so. I have been very impressed with the standard of football on display it has been a very good advert for the women's game especially for the young children who have attended the games the venues have been very good and the attendances for the games I've been to excellent. Roll on the semi-finals…