The Tuesday Round-Up – Edition Thirty Four
From Sunday 8th May
Welcome to Edition Thirty Four of The Tuesday Round-Up, start with an apology for being a late one but it has been a busy start to the week football wise the season might be drawing to a close but that still sees the games coming thick and fast 3 Cup Finals in 3 nights starting on Sunday with the Beds & Herts Women's League Cup Final, then onto Suffolk for their Women's County Cup Final finishing last night with the Cambridgeshire Women's League Cup Final, match reports to write up and a full time job to add into the mix and that left little room to write up The Tuesday Round-Up and with this being one of the last of any significant size for this season with league titles and cups won it needed to give those involved proper recognition. Plus seeing's as we've had a few extra games since Sunday we can give those a mention too so let's get started
FAWPL Cup
 One final I sadly couldn't make it to was the biggest one in the Women's Football East spectrum the FAWPL Cup Final. This season's final featured two sides playing in the FAWPL Southern Division, Cardiff City Ladies and Tottenham Hotspur Ladies. A 3rd Cup Final match of the season for Tottenham Hotspur Ladies having played 2 already winning the Ryman Women's Cup in a penalty shootout against Charlton Athletic Women, then losing to the same opponents in the Capital Cup Final, this was the big one though the one they wanted. Cardiff City Ladies too a chance to end the season with some silverware the Final played at Kidderminster Harriers FC.
Biance Baptiste scored the opening goal in the final putting Tottenham Hotspur Ladies into the lead just after the half hour mark. Cardiff City Ladies responded before have time Hope Suimenin with the goal just before the break to make it 1-1 at half-time.  The second half produced no more goals seeing the final go into an extra half hour. Cardiff City Ladies goalkeeper Alesha McGlynn was injured during the extra passage of play unable to continue Hannah Mills stepped into her place in goal. The game was looking destined to go to penalties then in the dying moments Maya Vio got her head onto the ball to nod it over the line and cue wild celebrations from the Tottenham Hotspur Ladies bench her goal winning the FAWPL Cup.
Two trophies to end their season, congratulations to Tottenham Hotspur Ladies on winning this season's FAWPL Cup.
FAWPL South East Division One
Two games being played in the FAWPL Southern Division, league Champions Crystal Palace had enjoyed a lap of honour walking parading the trophy inside a packed Selhurst Park on Saturday. Still had unfinished business in the league however one last game to play 21 played so far an unbeaten record to keep. A trip up to Norfolk to play Norwich City Ladies. Took a while to break the home side down Alma Donohoe scoring late in the 1st half to give Crystal Palace Ladies the lead. 2nd half upping the tempo eventually led to further goals Gemma Bryan making it 2-0 before Donohoe turned provider for Leanne Bell to head the ball into the back of the net and seal a 3-0 win making it 20 wins and 2 draws for the season to cap off a fantastic season.
Also in league action for their final game of the season were Luton Town Ladies on the road facing Old Actonians Ladies in a later 4:30pm kick-off. 4th place already secured in the table they consolidated the position with 3 more points Nicola Henman and Jessica McKay with the goals as they win 2-0. 4th for the second season running however scored 27 points last time around 40 points this time ironically would have brought them a top 2 finish last season, they have improved but so to have others around them and the FAWPL South East Division One is developing into a strong competitive league.
Eastern Regional Leagues
A couple of games in the ERWFL this Sunday with teams wrapping up their fixtures. One more game left outstanding in the ERWFL Premier Division with Acle United Ladies travelling south to play Haringey Borough Women, who with a win could have secured a 4th place finish. It was 7th placed Acle United Ladies who finished with a win however as they took the 3 points courtesy of a single goal, Kate Pasque netting the goal.
In the ERWFL Division One East, Champions Writtle Ladies were due to play Bury Town Ladies in their final league match of the season but were awarded the home team as Bury Town Ladies had insufficient players available. Writtle Ladies have the ERWFL Division One Cup Final to look forwards to on the 22nd May.
In ERWFL Division One West two outstanding fixtures remain, the league games between Colney Heath Ladies and Hoddesdon Owls Ladies both home and away although both would be played at Colney Heath. The 1st this Sunday, Colney Heath Ladies have been bottom of the table all season, but have been one of a number of sides who just haven't been able to get a run of fixtures going, 5 points adrift at the bottom only 2 wins from 2 would see them finish above Sawbridgeworth Town WFC. Hoddedon Owls Ladies have been struggling with fixtures early in the season to but getting them on late on have build up momentum and form suffering a narrow defeat to league winners Royston Town Ladies in midweek. Came unstuck this Sunday as Colney Heath Ladies hit them for 5, scoring 5 goals without reply to get the 3 points 2 goals from Adrienne Milton plus a goal a piece for Kelly Hancock, Kirsty Fraser and Samantha May. Play Hoddesdon Owls again this coming Sunday then they are Writtle Ladies opponents in the ERWFL Division One Cup Final on May 22nd.
Norfolk
Brandon Town Ladies… remember them? Played their last league fixture back on February 28th sat top of Norfolk Women's Division One with one game left to play against Thorpe United Ladies, that game got postponed leaving Brandon Town Ladies without a competitive fixture for 10 weeks. Had dropped to 2nd with Wymondham Town Ladies going top couldn't catch them but a win would secure a runners-up spot and end Thorpe United's own hopes of winning the title. At Thorpe United this Sunday the game was eventually played, 3 goals in the match all coming 1st half saw Thorpe United Ladies win the 3 points to over take Brandon Town Ladies push them down into 3rd spot. Chloe Slater scoring for Brandon Town Ladies, Charlotte Groves and Becky Russell from the penalty spot sealing the win. 
That leaves Thorpe United 3 points behind leaders Wymondham Town Ladies with a game left. Wymondham Town Ladies awarded the A-W in their final match as opponents Fakenham Town Ladies couldn't find the players available for this rearranged fixture. Thorpe United play 4th placed Aylsham FC Ladies away in their final league game have to win by 5 clear goals if they wish to take the title.
One other fixture played in Norfolk this Sunday in Division Two, 4th placed Red Rose Ladies could climb a place and finish 3rd in the table with a win away to 2nd bottom Morley Ladies. a brace each for Ellen Hutton and Megan Skinner plus a strike from Lauren Hems saw them win the game 5-1, Candice Halstead with the goal for Morley Ladies to see them finish 3rd. Won't be known as Red Rose Ladies next season, the current 1st team moving on a change needed with the players and management unhappy with the current set up. Will be known as Briston Ladies next season and hope to retain their Division Two status.
Suffolk
It's been coming for a few weeks now as readers of The Tuesday Round-Up will know in Suffolk and Copleston Ladies did it at the weekend won the Women's Division Title. Coming from behind with games in hand the scenario was simple in the end if they could win all their games in hand in they could overhaul Brantham Athletic Ladies and claim the title by 2 points. Were playing their last league game against bottom side Ipswich Phoenix Ladies who haven't taken a point all season. Copleston went about their business leading 2-0 at half time adding 2 more goals 2nd half the goals coming from Jade Horne, Megan Stock, Elysia Young and Amelia Deuchars. Won the game 4-1 Catherine Mason on target for Ipswich Phoenix Ladies. 
Congratulation to Copleston Ladies on winning the Suffolk Women's Division Title.
Also in action in the Suffolk Women's Division playing their last league game to were Leiston St Margarets Ladies at home to Witnesham Wasps Ladies. Leiston St Margarets taking advantage of a depleted Witnesham Wasps Ladies side to win 2-0 claim their 5th win of the season.
A spot of Monday night football in Suffolk this week too the middle of 3 Finals attended this week, a special occasion at Portman Road the home of Ipswich Town FC where this season's Suffolk Women's County Cup Final was being played. A fantastic opportunity for the finalists Kirkley & Pakefield FC Ladies and Ipswich Town Ladies the current holders of the trophy to play at the famous stadium a 5 league gap between to two sides it was always going to be a tough test for Kirkley & Pakefield FC Ladies. Ipswich coming at them Hollie Clement opened the scored driving into the box and curling a shot home. Molly Hall scored the 2nd goal heading the ball into the back of the net, Libby Dixon springing the offside trap to make it 3-0.
Captain Amanda Crump added 2 more goals before half-time then added a third 5 minutes into the 2nd half giving her a Cup Final hat-trick. Ipswich Town Ladies kept creating chances striking the woodwork on 4 or 5 occasions before substitute Sophie Welton scored 2 goals late on to make the final score 8-0 and retain the County Cup. The full match report from the Supporting Women's Football Blog will be posted to the site soon for now you can read it by clicking on the link below.
Kirkley & Pakefield FC Ladies v Ipswich Town Ladies
Congratulations to Ipswich Town Ladies on retaining the Suffolk Women's County Cup.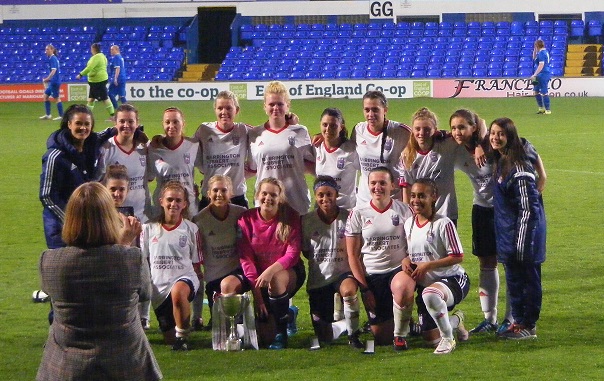 Cambridgeshire
Cambridge City Ladies are celebrating to this week having secured a league and cup double. In their debut season playing in the Cambridgeshire Women's Premiership the side having been together all the way through the youth leagues went top last week a draw the minimum requirement in the game on Sunday a home to Netherton United Ladies would see them clinch the title. Grace Stanley scored for Cambridge City Ladies, Megan Parrett with the goal for Netherton United Ladies saw the points shared the game ending 1-1 enough to see Cambridge City Ladies crowned Champions.
Battling it out for the runners-up spot in the Cambridgeshire Women's Premiership were ICA Sports Ladies with the advantage a pint ahead in 2nd place hosting Cambridge United WFC Reserves. ICA Sports Ladies scored twice, Tash Applegate and Clare Knibbs on target, Cambridge United WFC Reserves found the back of the net with 2 goals themselves Ebony-Jade Rule and Hayley Turner getting on the scoresheet saw the points shared the game ending 2-2 ICA Sports Ladies in their 1st season in the Cambridgeshire Women's Premiership finishing runners-up.
A quick turn around for both Champions Cambridge City Ladies and Cambridge United WFC Reserves as they were in action again last night (hence why The Tuesday Round-Up is on a Wednesday this week) playing in the Final of the Cambridgeshire Women's League Cup at Histon FC. A local derby a chance for a league and cup double for Cambridge City Ladies whilst Cambridge United WFC Reserves beaten in the final last season wanted to lift it this time around. Was always going to be a competitive match and got off to a lively start 3 goals inside the opening 15 minutes Cambridge City taking the lead a long range shot from Grace Stanley evading the diving Tafadzwa Mhunduru in the Cambridge United WFC goal to put them ahead, United came back Laura Mills blasting home a shot just two minutes later then Hayley Turner scored from inside the box to make it 2-1. 
Cambridge City were awarded a penalty with 10 minutes left of the 1st half, Philippa Witherspoon brought down, captain Bronte Rapley scoring from the spot placing the ball into the top corner. All even at half-time Cambridge United WFC Reserves got themselves back in front Mills putting the ball over the line. Conceded another penalty however and this time it was Stanley who stepped up to dispatch then with 15 minutes left Stanley went on a mazy run through the middle breaking into the box and sending the ball past the advancing keeper to seal her Cup Final hat-trick and see Cambridge City lead 4-3 in a cracking contest held on to win the game and seal a league and cup double. Like the Suffolk Women's County Cup Final the match was covered by the Supporting Women's Football Blog and can be read by clicking the link below.
http://supportingwomensfootball.blogspot.co.uk/2016/05/cam-city-cam-utd-league-cup.html
Congratulations to Cambridge City Ladies on your League and Cup double.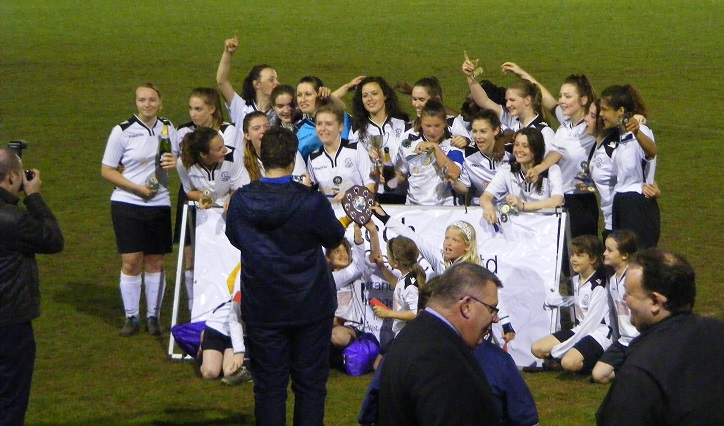 Elsewhere in Cambridgeshire it was a clash between the top two in the Women's Championship North with Champions Bourne Ladies hosting March Town United Ladies both playing their final match of the season positions secured no pressure on the game, the goals flowed from both sides. Bourne Ladies leading 4-2 at half time went on to win 8-5. Kimberly Fairweather and Tracey Duxbury-Mead both scoring a brace for Bourne with the other 4 goals coming courtesy of Charlotte Ayers, Rosanna Baker, Claire Lawrenson and Toni McHamilton. March Town United Ladies goals were scored by Adele Munday who hit 2 with Shannon Kelly getting herself a hat-trick on the final day of the season. 
Wisbech Town Ladies finish 3rd in the Championship North table with a 4-0 final day away win at 2nd bottom Hungate Rovers Ladies. 2 goals for Sophie Gutteridge, plus a goal each for Shushannah Feast and Annie Rooks. Swineshead Institute Ladies in their 1st season playing in the Championship North end with a comfortable mid-table finish playing at home against Stamford Ladies. Edged the win to claim 3 points in a 7 goal thriller Eleaner Spendlow bagging the hat-trick ball with Becky Taylor also on target in a 4-3 win likely to be awarded 3 points in their final game of the season will overhaul Stamford Ladies for 5th place in the table.
  Thing's are a little clearer in the race for the title in Cambridgeshire Women's Championship South, no longer a 3 way battle for top spot. With 2nd placed St Ives Town Ladies playing 3rd placed Milton Ladies on Sunday. Both sides needed the win to keep their title hopes alive. It was a close game a single goal settling it the 3 points going to St Ives Town Ladies, Sasha Smith grabbing the winning goal to see them keep up the pressure on leaders Park Ladies. Despite being awarded an away win in their final match Milton Ladies end the season in 3rd place it what has been a competitive battle at the top of the league all season. 
Comes down to the final round of fixtures this coming Sunday a pint between the 2 sides St Ives Town Ladies have an earlier kick off at bottom side Cambridge Rangers and although you can take nothing for granted could well hold top spot before Park Ladies kick off i their match away to Riverside Rovers Reserves. That would mean nothing short of the win will do, get it and they will be Champions. Best of luck to both sides.
Essex
In Essex it was pretty quiet at the weekend just the one fixture taking place in Essex Women's Division One with Hullbridge Sports Ladies Reserves racking up a huge 13-0 win at home against Valley Green.
Last night Wickford Town Ladies were away in their final league game of the season playing Division One Runners-up Chelmsford City Ladies Reserves finished with a victory Kerry Newby scoring a hat-trick with Claire Campbell adding 2 more goals Stone with a goal to as they end the season with a 6-2 win.
Bedfordshire and Hertfordshire
Just the one game in Bedfordshire and Hertfordshire this Sunday the leagues all wrapped up it was the Women's League Cup Final and a repeat of last seasons final with holders Garston Ladies playing Sherrardswood Ladies at AFC Kempston Rovers FC in a 6:15pm kick-off. This was also where the Supporting Women's Football Blog started a trilogy of Cup Finals and again the link to the whole report can be found below.
Vikki Duffy gave Garston Ladies the lead moments after captain Gemma Curtis had rifled a shot against the cross bar. Duffy sending a shot in from the edge of the area. Held the advantage at half-time. Sherrardswood Ladies finished the 1st half strongly and riding out a spell of Garston pressure early 2nd half rallied as the 2nd half grew the equalising goal coming deep into injury time Rhia Rose curling a shot home to send the game into extra-time. 
Sherrardswood Ladies got themselves into the lead Rose again with the goal in the 2nd period of extra-time from a free kick a good way out central flying into the goal. So close to victory, Garston pushed down the other end late on winning a corner the delivery in the dying seconds perfect as Sam Roads rose highest inside the box to head the ball into the back of the net and send the final into penalties. Garston Ladies failed to score their 1st two penalties Sherrardswood converting theirs then a complete turn around as Garston went on to score their final 3 penalties and heart break for Sherrardswood at the end not scoring another seeing Garston retain the cup with a 3-2 penalty shootout win.
Garston Ladies v Sherrardswood Ladies
Congratualtions to Garston Ladies on winning the Beds & Herts Women's League Cup for the 2nd successive season.
That ends another Edition of The Tuesday Round-Up just a handful of games left, still some crucial games left mind titles still to be won as well as comes and although it'll be a smaller Edition next week it'll still be covered here. A special Edition of The Tuesday Round-Up is coming up a Role of Honours Edition and I'd like to include as many teams celebrating a league title or cup as possible so if you want to send me a picture I'd love to include everyone. Until next week thanks for reading.