The Tuesday Round-Up – Edition Thirty Five
From Sunday 15th May
The season is almost at an end a cross the East a much smaller edition of The Tuesday Round-Up to bring you just a dozen games to write about across the region as side play out there league campaigns a couple of league titles still to be decided and in others final position. Another Cup Final too.
FAWPL Southern Division
One game left to play in the FAWPL Southern Division, for 5th placed Coventry United Ladies a win would lift them above Portsmouth FC Ladies into 4th, 3rd placed Cardiff City Ladies were the visitors. Nikki Miles gave Coventry United Ladies the perfect start putting them 1-0 up inside the opening 3 minutes. Held on to the goal advantage until half-time before Libby Piggott added a 2nd goal 3 minutes into the 2nd half to secure the victory and see Coventry United Ladies clim a place. Conceding just 18 goals in the league throughout the season theirs is the best defensive record.
Elsewhere in the FAWPL, Sporting Club Albion Ladies have won the Northern Division title and will play Southern Division Champions, Brighton & Hove Albion WFC in the FAWSL Play-off match on Sunday 29th May at Adams Park, home of Wycombe Wanderers and Reading FC Women. This match also has bearing on the relegation places because if Brighton & Hove Albion WFC win the game and are promoted to the FAWSL, 2nd bottom Forest Green Rovers Ladies will remain in the league, just as Newcastle United WFC did last season in the Northern Division when Sheffield FC Ladies went up.
FAWPL South East Division One
Having seen their penultimate league game at home against Old Actonians Ladies postponed in mid-week, Gillingham FC Ladies travelled up to Norfolk on Sunday knowing a win would see them finish as runner-up in the FAWPL South East Division One, playing Norwich City Ladies the visitors were in determined mood to finish the season strongly. Emma Tune opened the scoring on 26 minutes for Gillingham, then Kallie Balfour netted a minute later and went on to score a 12 minute hat-trick putting Gillingham 4-0 to the good at the break, same tune 2nd half (sorry) Balfour scoring her 2nd hat-trick of the match in a 10 minute burst this time Tune getting another goal 2 during that spell as Gillingham ran out 8-0 winners, play their rearranged game with Old Actonians Ladies on Thursday.
 Ipswich Town Ladies have had an excellent 2nd half to their season, two more games left in the league a top half finish is guaranteed get to wins and they could pip Cambridge United WFC to 5th spot. Were away on Sunday playing the side directly below them Enfield Town Ladies. The home side took a 3-0 lead, Cally Browne, Nuala McKevitt and Sheryce Slater all getting a goal, but Ipswich Town Ladies thought back scoring through captain Amanda Crump, with Molly Hall also on target with a brace from Natasha Thomas seeing them win the game 4-3
Old Actonians Ladies have been slowly catching up with their league fixtures a busy spell owards the end of the season, have secured their FAWPL status for another season Sunday saw them at bottom side Bedford Ladies to play a double header. Bedford Ladies captain Rebecca Vass scored twice one from the penalty spot the other open play to see them win only their 2nd game of the season. In the 2nd game Old Actonians Ladies took the lead, Kaiya Glynn pulled the scores level but they went down to a late goal to lose the 2nd match 2-1.
Eastern Regional Leagues
Just the one league game left across the ERWFL in Division One West bottom side Colney Heath Ladies were hosting Hoddesdon Owls Ladies for the 2nd successive Sunday, winning last weekends encounter 5-0 another win would see the climb off the foot of the table having been there all season. The 1st half saw 2 goals scored late on, Hoddesdon taking the lead on 40 minutes Kristina O'Connell netting the goal. In 1st half injury time Holly Sheridan got it back to 1-1. Colney Heath Ladies then took the lead a minute into the 2nd half Kirsty Feasey with the goal. Went 3-1 up on 52 minutes Sophie Joseph getting the goal. Hoddesdon pulled a goal back late on Becky Scola scoring but it wasn't enough as Colney Heath Ladies win to lift themselves off the foot of the table.
That saw Sawbridgeworth Town WFC finish bottom and more bad news was to follow as the club announced on Twitter it was being folded, an established women's football club always sad to here and Women's Football East wishes everyone involved at the club all the best hope to see Sawbridgeworth back in the women's game in the not to distant future.
Norfolk
One game left in Norfolk across the 3 leagues, in Division One a potential title deciding game, Wymondham Town Ladies held top spot by 3 points weren't in action this Sunday 2nd placed Thorpe United Ladies were away to 4th placed Aylsham FC Ladies, was a ig ask to take the title a win by 5 clear goals was needed on the day. Had beaten Aylsham in the County Cup Final, however Aylsham were on a high having recently won the League Cup with a last gasp winner. Have a goal scorer in top form this season Abbie Charlton see added 4 more to her tally on Sunday to make her the leagues top goal scorer, Leanne Woodward scored twice with Sophie Burr-Walpole also scoring as they won by 5 clear goals beating Thorpe United Ladies 7-2 their goals coming from Hayley Kindred and captain Rebekah Lake meaning Wymondham Town Ladies were crowned Champions.
Congratulations to Wymondham Town Ladies on winning the Norfolk Women's Division One title.
Cambridgeshire
Cambridge City Ladies were already Champions of the Cambridgeshire Women's Championship with one match left to play were at Bar Hill Ladies to complete the Premiership fixtures on Sunday. Won the game 7-2 with goals from Emily Bevens, Izzy Broadbent, Ellie Geoghan and Carla Penny with Grace Stanley scoring a brace plus an own goal. Bar Hill Ladies end the season in 4th place their goal scorers, Maya Holmdahi and Anna Jephson. 
Two matches left to complete in the Cambridgeshire Women's Championship North and one was settled without a ball being kicked. Swineshead Institute Ladies being awarded the win against bottom side Tydd St Mary Ladies to see them finish 5th in their 1st season together. In the other game 2nd bottom Hungate Rovers Ladies were away playing Downham Town Ladies who had slipped down the table at the end unable to play fixtures conceding games. Mustered up 8 players to face Hungate at the weekend. The visitiors taking full advantage to end their season with a win Jade Chamberlain claiming 4 goals with Amelia Rees and Terri-Ann Moeser also on target and own goal adding to the scoreline as they beat Downham Town 7-2 their goals from Chelsea Thomason and Katy Walkey. 
In other title battle to be decided in the region this Sunday was in the Cambridgeshire Women's Championship South with both leaders Park Ladies and 2nd placed St Ives Town Ladies in contention for the crown both playing their 1st season. A point the difference St Ives Town Ladies should have been playing bottom side Cambridge Rangers in an 11am kick-off it didn't happen St Ives Town Ladies awarded the away win moved 2 point ahead of Park Ladies who were away playing Riverside Rovers Reserves nothing less than a win would do. Any nerves were erased as they took control of the match leading 3-0 at half-time added another goal in the 2nd half, Erin Powell getting herself a hat-trick with Casey Ward helping herself to a goal 4-0 the final score Park Ladies win the Championship title in what has been a very competitive battle between themselves, St Ives Town Ladies and 3rd placed Milton Ladies.
Congratulations to Park Ladies on winning Cambridgeshire Women's Championship South title.
Essex
Two games being played in Essex on Sunday. One of those being the Women's League Cup Final, and that was where the Supporting Women's Football Blog headed to Herongate Athletic FC to watch Harlow Ladies play Runwell Hospital Ladies for the trophy. Followers of The Tuesday Round-Up will know full well how successful a season Harlow Ladies have been having, in just their 1st together under the Harlow banner, Essex Women's Division One Champions aswell as winning two cup finals the Women's Trophy and Tiptree & District Women's Charity Cup. The quadruple was on. Runwell Hospital Ladies in their 2nd season together had reached their 1st ever cup final.
  It was Runwell who were to take an early lead, Rachael Selfe putting them in front, the lead wasn't to last long as Harlow hit back straight away Eliza Weeks heading the ball in from a corner. Harlow went on to fashion a host of chances before taking the lead late in the 1st half Tia Dye popping up inside the box to turn the ball home. Again the lead was lost soon after and it was a brilliant strike to from distance by Runwell's Nik Chapman to fire the ball into the top corner.
All square at 2-2 going into the 2nd half, Harlow got themselves back in front breaking from a Runwell corner getting the ball up into Dye she plays the ball through the keepers legs to score her 2nd of the game. Harlow added a 4th goal, Abbie Bensted firing the ball home, but despite having Runwell on the back foot for a large portion of the game they were never out of it Sammie Delves volleying home a cross inside the area to make it 4-3. 5 minutes from time Harlow got another goal Philippa Stephens rifling the ball home the final score 5-3 Harlow Ladies cap off a fantastic season with a 3rd cup win completing a quadruple and Harlow are the only side in the region with 100% win record in the league. The whole match report from the SWF Blog can be found scrolling on the website below.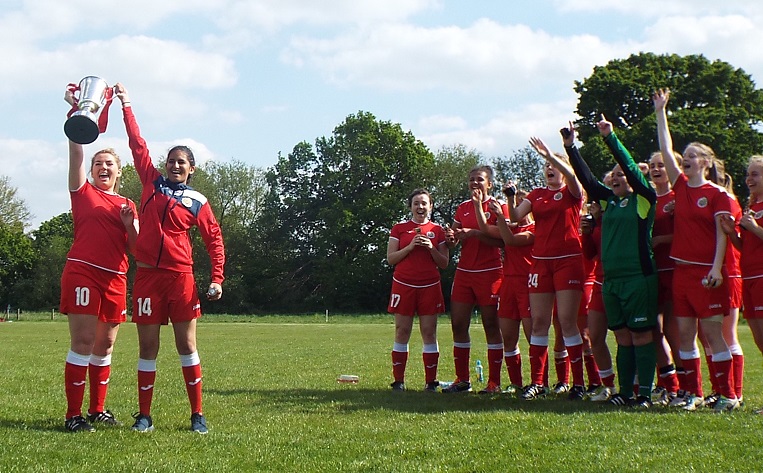 Congratulations to Harlow Ladies on such a fantastic season.
One last league game to bring you in Essex Women's Division One, Hullbridge Sports Ladies Reserves won 6-0 away to Valley Green.
That concludes the penultimate edition of The Tuesday Round-Up one more to go and it's going to be a little different. A handful of games left out there in the FAWPL South East Division One, Essex and the ERWFL League and Division One Cup Finals. Introduced a new page to the website this week a Club Advertising page for clubs to post adverts looking for new players or coaching staff, volunteers, or to announce trial dates please get in touch if you like to place an ad. Can't believe it'll soon be over until next week tanks for reading.